Jacob's Ladder Trail Turns 100!
Join the celebration
Sign up to display your antique car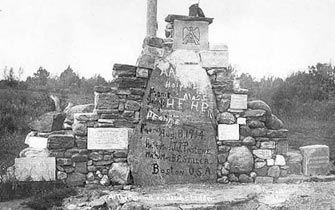 On Saturday, September 25, 2010, the 100th anniversary of the opening of Jacob's Ladder Trail was celebrated at the summit - the corner of Route 20 and Fred Snow Road.
Jacob's Ladder Trail was officially opened in September, 1910 with a celebration at the summit of its crossing of the Berkshires. On that day, rocks that had been brought from their homes by dignitaries and visiting motorists were placed in a pile at the site of the celebration, beginning a tradition that resulted in the cairn that now marks the summit.
On September 25th, 2010, the 100th anniversary was feted with a gathering at that cairn. The celebration featured food, music, and a few words in commemoration of the event.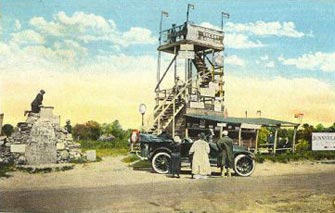 Antique car owners were invited to participate. We hoped to have cars from the entire history of the Trail represented, and many decades of history were represented by the autos participating.
A commemorative book was published with the help of advertisers, who fully supported the project, and our own Steve Hamlin, who designed and published the Centennial booklet. Our goal was to publish a book that would become a keepsake souvenir of the event, and we were very successful with this top quality publication. Commemorative oval stickers were also produced, and are still available by sending a check for $2.00 and a self addressed stamped envelope to: Jacob's Ladder Scenic Byway, PO Box 508, Huntington, MA 01050-0508.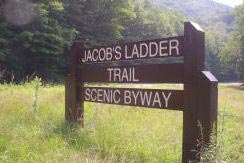 From the rocky heights of Mt. Tekoa...
...in Russell to the Lee/Lenox town line in Berkshire County, the Jacob's Ladder Scenic Byway winds through the small towns of Russell, Huntington, Chester, Becket and Lee, providing views of the Wild and Scenic Westfield River along the way. Known also as the "Jacob's Ladder Trail," the route was designated a Massachusetts Scenic Byway in 1992.
First of the Great Mountain Crossovers
At the urging of Lee resident Cortland Bishop and other citizens of the lower Berkshire county yearning for a good road over the Berkshires, Jacob's Ladder Trail was opened to great fanfare in 1910. The first road to cross a mountain range that was built specifically for the growing numbers of automobiles, it immediately became a tourist destination.
Scenic, historic, memorable today
Jacob's Ladder Trail Scenic Byway is notable for its unique and well-preserved living history. The Jacob's Ladder region is rich in the culture of rural New England - the quiet, unpretentious lifestyle and the beauty of the ancient hills, with their rivers and woodlands. This region is a remnant of the cradle of our country, charmingly backward and utterly unforgettable. The people of the region are proud of their heritage and are happy to share it with you.
Visit Jacob's Ladder Trail Scenic Byway.